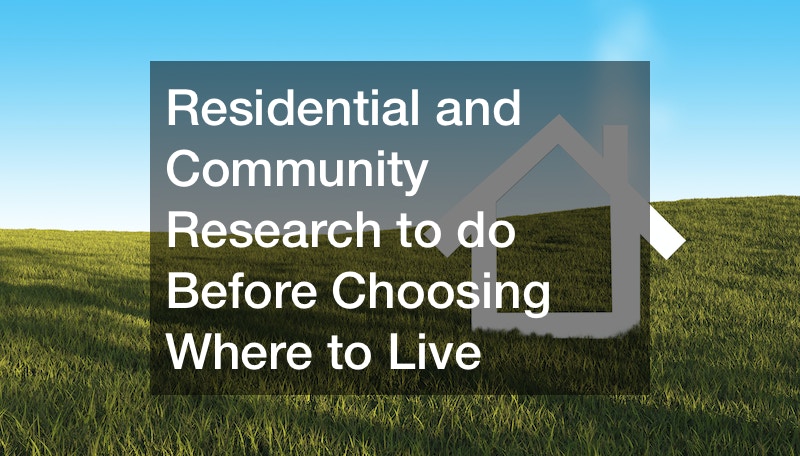 You've probably envisioned your dream house or home, a perfect location, with a community you can relate to. You may have imagined the design of your house, its proximity to important facilities such as hospitals, schools, and other amenities, like sports clubs, a community center, spas, eateries, and more. Great! In terms of being forward-thinking and strategic, you aren't doing badly, and you're not alone in the dreamers' world. We all aspire to be better, to live in a better house, and to live in a house of our dreams, located within a neighborhood that's plucked from a movie scene.
Each person looks for different things in a community depending on their lifestyle, age, family and size, economic status, health, right down to preference. By conducting proper residential and community research, you'll be able to make an informed decision that factors in everything you need and want based on your priorities and those of your family if you have one. Below are some factors you can consider.
1. Household Care Services
You'll definitely need basic domestic services that are key to the proper running and maintenance of a home. Depending on different circumstances and living arrangements, some of those services may include laundry, deep house cleaning, gardening and lawn services, assistance with shopping, and childcare or caregiver services.
Domestic tasks can be tasking and labor intensive, especially when you have other responsibilities such as a job. Every homeowner needs a helping hand to relieve some of the burdens that come with running a home. Carrying out thorough residential and community research ensures that you can get all the services relevant to you.
2. Fitness Activities
Healthy living is key to a long life free of health complications, and keeping fit through regular exercise is one of the important recommendations by health gurus. Whether you have been practicing healthy living or not, it's important to undertake residential and community research to assess whether you can maintain or adopt such a lifestyle. Some communities, by nature of their culture, provide more conducive avenues like safe biking trails, and a great ambiance for walks and jogging, while others have facilities available for fitness activities like swimming pools, basketball pitches, dance and yoga classes, martial arts and well-equipped gyms.
3. Other Homes in the Area
'Location, location, location' is a common mantra emphasized by real estate dealers, and for a good reason. It is the major determinant for what most, if not all, homes will be like in the area. To be a homeowner is a great achievement, and in the desperation of ticking this achievement off the bucket list, most home buyers clamor for almost any house on sale. Strategic residential and community research is a good way to determine which areas are the highest value locales, and their appreciation rates, if you're to potentially profit from residential home sales. Do your homework to get reasonable mortgage rates, collateral options, and limits, and gain an understanding of the area's legal bounds to avoid potential foreclosure down the road.
Additionally, find out what pulls a certain class of people to the area. This may give you clues about things like accessibility to important amenities, transport links, well-ranked schools, top-notch health care, and possibilities for future development plans, among other crucial details.
4. Doctors Offices
In a world with all manner of ailments and health complications, the need for adequate and sustainable medical services in or within reach of a neighborhood is a concept well understood by many as it rightfully should be. Good health for you and your entire family should be a priority. Thus, residential and community research on these essential services should undoubtedly be a priority. See if you can get personalized care like that of family doctors or family dentists, especially if you require these services more frequently because of the children and the elderly in your family. Also, check if your medical insurance can cover your medical needs in the available facilities.
5. Adult and Child Care Services
Mrs. Carter, a former first lady of the United States of America, once made a very important observation on life when she stated that the world has only four groups of people: former caregivers, current caregivers, future caregivers, and those in need of caregiving. Caregiver services, therefore, are part of our lives at different levels.
The elderly in the family may also need specialized care, and some might have medical or chronic conditions that require round-the-clock attention. Children in families also need care, and different care at that, depending on which developmental stage they're in. Some children or other members of your household may have special needs. They equally require specialized care. While carrying out residential and community research, it's prudent to factor in all these needs and ascertain the availability, accessibility, and affordability of care services.
6. Self Care Opportunities
The need for self-care is inevitable and varied. There are dietary and fitness requirements that help to keep our bodies healthy and less prone to lifestyle ailments. Emotionally, we need to keep our stress levels in check to avoid exacerbating natural body wear and tear. We also need to feel and look good, hence self-care amenities such as a gym, beauty salon, and psychological therapy centers are no longer luxuries but must-have necessities. As you conduct your residential and community research, look out for areas where these opportunities are readily available and within a few minutes of your potential home.
7. Helpful Facilities
You may have observed that self-storage facilities are springing up everywhere, perhaps even close to your existing residence. This may leave you wondering why this is the case. Self-storage facilities have become a popular option for homeowners looking to store their belongings, particularly those who are moving or downsizing. For example, if you're downsizing your home, you can store excess items in a storage container to give yourself more time to think things through. This can be useful if you're relocating in a rush or have a tight schedule.
Having a storage facility near your home has the additional advantage of allowing you to access your belongings quickly. The inconvenience of getting to your belongings increases with the distance the storage facility is from your home. Having a storage unit close to your potential place of residence will reduce your driving time. If the area experiences all four seasons, you'll probably have different hobbies for each of them. You could, for instance, enjoy gardening, jet skiing, rollerblading, or other sports throughout the summer. During the cold months of winter, you may enjoy ice skating, snowboarding, or skiing. When it comes time to keep out-of-season things out of your daily life, this may leave you with a lot of clutter. By renting a storage container, you can keep your seasonal belongings and hobbies secure and clear up space in your garage or attic. If you frequently travel or plan to take a long vacation after your move, a self-storage facility will keep your stuff safe and secure while you're on your travels. During your residential and community research, get multiple quotes from different storage companies in the area to find out who is the most competitive of them all.
8 Animal Care Options
If you have pets, look for veterinary services in your potential new area of residence during your residential and community research. You'll want to have a vet close by. This makes sense since you don't want to have to drive for miles for your dog to get a booster shot or for your cat to get flea treatment. Unless the place is rural, you should be able to find a variety of local practices to choose from. Keep in mind that certain practices may have multiple branches of varying sizes. If the nearest branch is small or they're busy, you may need to use a larger location for certain treatments. Proximity can be important since large animal and equine practitioners may charge differently for 'zones.'
You should also look at the species the facilities treat. Although it may seem obvious, it is crucial that your veterinarians have experience with your particular breed. You may find some 'mixed' practices that work with all kinds of animals. However, practitioners are increasingly limiting their treatment to certain types. These are often divided into three categories: 'small animal' (also known as 'companion animal'), 'farm animal,' and 'equine.' Also look out for 'exotic' specialty practices that commonly treat tiny mammals, fish, reptiles, and birds.
The great majority of pet health issues can be attended to during regular business hours. However, in case of an emergency, you'll need to know how and where to get help. Although it doesn't have to be done in their practice, all veterinarians are required by law to offer some sort of emergency coverage.
Some veterinary clinics may handle after-hours work on their own, and if you need them overnight, your regular veterinarians will be on call. Others will employ specialized night veterinarians at a different practice or hire veterinarians to work at night in their clinic. Note that there are variations in whether or not hospitals can keep patients overnight or if they must be sent to another location. The majority of large animal and equine practices handle their own nighttime work, but they occasionally collaborate with other neighborhood practices or hire night veterinarians.
9. Fun Activities in the Area
Monthly meals are a fun and satisfying community-building activity. Food brings people together and encourages conversations. Additionally, meals have emotional importance and cultural roots, making monthly meals a great way to bond with the community. Group dinners held once a month feel more like a ritual and community activity, which gives one a sense of belonging in the new community. Instead of just making introductory small talk, you can build on previous conversations and create friendships through monthly meals, which can be structured in various ways. For example, the community may agree to hold the monthly meal at the best restaurant in town, plan a potluck, or choose a different community member to be the chef each month.
Monthly meals may also be held virtually. This could be done by scheduling a Zoom meeting and asking each member of the community to prepare or order a specific dish, and then all congregate online for food and conversation. Look for volunteering opportunities as well. Volunteering will give you a sense of shared mission in your new community. Volunteering also gives one a chance to connect with the larger community. The community may meet together to collect money, perform community service, read to youngsters, or write letters to veterans or older citizens. The best volunteer initiatives for fostering a sense of community are often ongoing so that everyone involved can see the progress they're making and feel proud of their collective impact.
10. Speaking With the Locals
As part of your residential and community research, speak with the locals. One of the best ways to know more about a neighborhood and community is by talking to the locals. Ask your friends and relatives who reside there what they like and hate about it, and if they would recommend it.
If you don't know anyone who lives in the area, you will definitely find some locals via a Facebook group. Remember that everyone tends to have quite varied opinions on what makes a great place to live. If you want to receive information on the aspects that matter to you the most, try to be as detailed as possible in your requests. For instance, if you prefer a quiet atmosphere, ask about the noise levels. If you're keen on networking and business, inquire about the local business community and any potential involvement options. You can gain a lot of useful information from current and previous residents, much of which may be things that are hard to discover in any other way.
You can effectively research your new neighborhood using all of the methods mentioned above, but only you know what matters to you most. Do your research while keeping your top priorities and preferences in mind. Note that each community has both advantages and disadvantages. However, with a solid foundation of actionable information, you can have a clear idea of whether or not you'd be pleased to take up residency in the area.