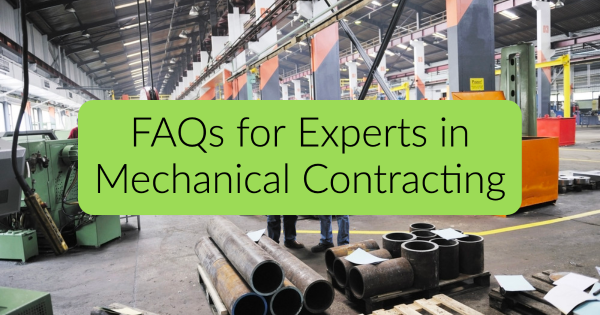 Mechanical contracting experts have the skills and experience to help with a variety of services related to installing, repairing, and upgrading environmental test equipment. To gain a better understanding of this profession, here are some of the most frequently asked questions that mechanical contractors receive.
1. What Industries Does a Mechanical Contractor Work In?
Experts in mechanical contracting work in the biotech industry. They're responsible for the installation, repair, and maintenance of environmental test equipment. According to Zippia, just over 60% of mechanical contractors prefer to work at private companies, such as ProTemp!
2. How Much Training Does a Mechanical Contractor Need?
Most mechanical contractors need to complete an apprenticeship or have an equivalent combination of experience and education. Apprenticeships typically last four years and include on-the-job training and classroom instruction. After completing an apprenticeship, they may need to pass a state licensing exam. Much training is provided on the job as well.
3. What Services Does a Mechanical Contractor Provide?
ProTemp's team of experts in mechanical contracting provides services related to environmental test equipment. We provide preventative maintenance inspections, calibration services, emergency services, product safety services, chamber upgrade services, test lab relocation services, new chamber set-up services, and more!
4. What Are the Benefits of Working With a Mechanical Contractor?
These professionals have the skills and experience for many tasks, from installations to repairs. Experts in mechanical contracting can also provide preventative maintenance services to help extend the life of your environmental test equipment. Working with a mechanical contractor can save you time and money in the long run.
5. Are Mechanical Contractors Engineers?
No, mechanical contractors aren't engineers. Engineers are responsible for designing systems, while mechanical contractors are responsible for installing and maintaining those systems. Although they don't need to be engineers, mechanical contractors must have a thorough understanding of the environmental test equipment they work on.
Experts in mechanical contracting provide a variety of environmental test equipment services. These professionals have the training and experience to complete many tasks, from installations to repairs to upgrades. Understanding the different services mechanical contractors provide can help you decide if this type of contractor is right for your needs. To learn more about environmental test equipment services and how to rent a chamber, contact ProTemp Mechanical today!